On February 27th, Cindy "Crash" Raschke passed away peacefully.
Her talent touched many people in the Kustom Car and Tiki Kulture in Texas and abroad.  Three of those where she made a mark was the Lonestar Round Up, Bayou Round Up, and Sig's Lagoon.  In honor of Cindy, we are raffling off a 1966 Barracuda she painted for Sig's.  It will be on display at this year's Lonestar Round Up.  Details below: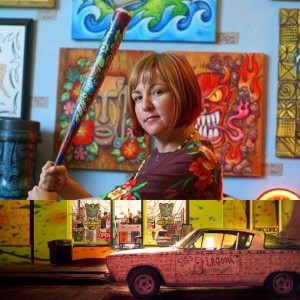 (More pics added soon)
$25 per ticket gets you entered to win
a 1966 Barracuda (as is)  painted by Cindy "Crash" Raschke
No limit on # of entries purchased.
It's more of an art piece than a running vehicle.  If planning on using as a working vehicle, it will need some work.
Winner will be announced on Saturday April 8th.  Winner will be responsible for picking up on April 8th, 2017 at the Lonestar Round Up at their own expense.
100% of money collected (minus paypal fees) will go to Cindy's husband, Brandon Raschke, to help with her memorial expenses.